Tibetan Drama and Dance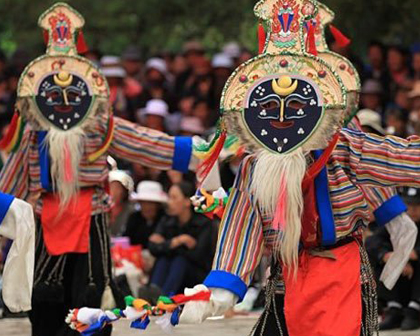 The Tibetan people call their folk opera "Lhamo", meaning "Sister Fairy". It employs singing and dancing to tell stories. Tibetan opera dates back about 1,400 years. Compared with the few other folk operas of Chinese ethnic minorities, it has the longest history. According to Tibetan historical records, King Songtsen Gampo greatly admired the costumes, music and dancing of the Tang Dynasty introduced to Tibet by Princess Wencheng of the Tang Dynasty when she married the Tibetan King. He arranged for the training of 16 beautiful girls in a combined art form of the Tang-style and Tibetan folk music and dancing in order to entertain the princess. Later, this entertainment developed into a more clearly defined form of dancing, singing and facting.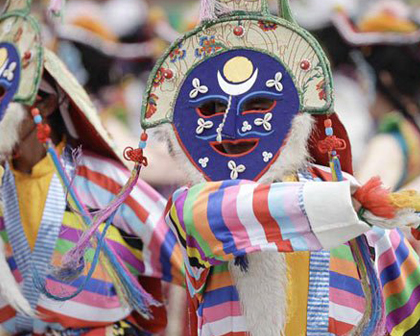 Over the centuries, Tibetan opera has formed a three-part stage format. In the prelude, known as "Wenbadun", Wenba men in blue masks, two Jialu men and several fairies take the stage, performing religious rituals, and songs and dances, introducing the actors and actresses, and explaining the story line of the opera that is to follow. The second part is the opera itself. The third part is an epilogue which features a blessing ceremony and is also an occasion for the presentation of hada (silk ritual greeting scarves) and donations from the audience.
Tibetan operas call for skills in singing, dancing, elocution and martial arts. The singing is sonorous and marked by drawls at the end. Frequent use of ensembles and choruses both on-and off-stage adds more impact to the singing. The dance movements are exaggerated and very energetic. Scenes that occur in everyday life are also projected in a dancing style. Such as: when two persons meet or when they bid farewell to each other. The primitive simplicity and vigor demonstrated in the singing and dancing is effectively set off by typical Tibetan landscapes on the backdrop.