Tibetan Costumes and Accessories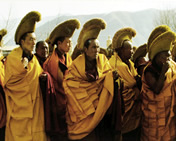 Tibetan people always take great pride in their dress and the accessories they wear. The costume reflects the history, culture, beliefs, character and wealth of the local people. Tibetan clothing is generally known to be bright and colorful and mainly consists of a robe and a shirt. They are made of sheepskin or wool and are usually home-made by man. In agriculture area, wool will be made 'pulu' first. Then, 'pulu' or sheepskin will be made into a gown with cloth or silk exterior cover called 'qugba'.
Tibetan Robe: Tibetan Robe, also named Zhuba, worn by men is broad and normally fastened under the right arm, while the robes worn by women are slightly narrower with or without sleeves. The robes often fastened with two cloth belts. Usually the belt is made of red, yellow or light green (young female may use pink) silk. The belt is well decorated and usually around the waist twice, and then tied behind with a knot. Man hangs flint box, needle box and Tibetan knife on it. Woman hangs copper or silver hook with butterfly and water lily designs.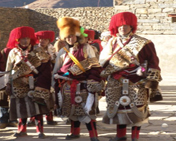 Apron: It is called Bangdan in Tibet. Usually, the aprons are only worn by married women. But, nowadays, more and more unmarried young ladies also like to wear them. There are two kinds of aprons, wide stripes ones and narrow stripes ones. The wide stripes one is with contrast, bright colors, as beautiful as rainbows. The narrow stripes one is with harmonic elegant and graceful colors. The most popular apron is a kind of long apron which is tied around waist and hung from front waist to lower hem of the skirt. This apron is sewn by three separate vertical pieces and on each piece there are colorful horizontal stripes patterns.
Boots: Usually, boots are divided into four varieties: long leg boots, short leg boots, unlined boots and cotton-padded boots. According to the material, it can roughly be divided into three kinds: cowhide, corduroy and pulu. On the grassland, Tibetans like knee-high long boots. It is made of ox skin or 'pulu'. When you walking in the street, you will see either Tibetan women or men wear boots and all kinds of boots are straight without distinguishing left and right and without men and women style.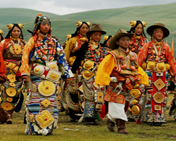 Hat: There are many different hats in Tibet. In summer, people wear heavy woolen hat, felt hat in spring, and fox belt hat or kid belt hat in winter. The noble women are used to wear a chest ornament called 'keu' and headpieces called 'bazhug', which are decorated with pearl, coral and precious stones. But, nowadays, they are common.
Tibetan Scarf: Tibetan people call it 'Khata'. It is usually made of silk. The color of the scarf is usually always white, which symbolizes the pure heart of the giver. It is often given as a gift at special Tibetan ceremonies, such as: weddings, funerals, births, graduations, arrival and departure of guests, etc.. Tibetan people commonly give a kind acknowledgment of 'Tashi Delek' (meaning good luck) at the time of presenting.