There is a center kitchen on each train, located next to the soft sleeping berth cars to supply 3 meals a day for hundreds of passenger on the entire train. Attached to this kitchen, there is a restaurant with seating for 40-50 passengers with wide windows as a favorite place for travelers to enjoy breakfast, lunch or dinner while enjoying the beautiful scenery along the Qinghai – Tibet Railway. Compared with the narrow sleeping berth compartment, the restaurant car is a comfortable place to relax and watch the incredible landscape pass by outside. Outside of having a meal there, you will be required to at least buy a beer or a cup of tea to sit there, otherwise you will be required to move back to your compartment.
In addition to the dining car, boxed lunches will be brought to each car by a small food cart. These are only Chinese-style fast food such as rice, fried vegetables and fried pork, and they normally cost around 20 Chinese Yuan (CNY) each. Food on the train is twice as expensive as you will normally find in the cities and the quality is not nearly as good.
For breakfast, passengers will be served with pickles, eggs, bread and milk, costing just 10 CNY per serving and these meals contain balanced nutrients. People who prefer noodles can choose from snow vegetable noodles, beef noodles, steak noodles, etc.
Tibetan style dishes are the most popular with passengers. Among all 45 dishes, there are 5 cold dishes, 8 Tibetan dishes, 32 ordinary dishes and 8 soup dishes. Examples include stewed yak with crassulaceae for 25 CNY, turnip, carrots and yak for 28 CNY and a ginseng salad for 18 CNY.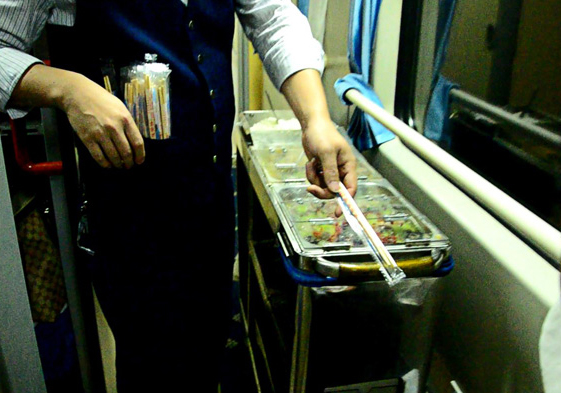 When you submit the reservation, please kindly read the NOTICE below.
train Your submitted reservation is not an order, but just an inquiry. The reservation need to be confirmed by Tibet Odyssey Tours.
train As the limited supply of tickets of Tibet train, especially in the peak travel season, Tibet Odyssey Tours need pay some fees for handling reservation, the ticket issurance and tickets delivery, so we need to charge customer an addtional service fee, the amount of which is affected by Supply and Demand. Before you decide to book the tickets, please contact our tripadvisor to confirm the amount of the service fee .
train Due to limited supply of tickets, generally speaking, Tibet Odyssey Tours just offers the tickets to the cunstomers who book tour and tickets together, and does not offer tickets reservation service only. If you have already had a travel plan, please feel free to get a price quotation from Tibet Odyssey Tours. We are sure to offer you the competitive price.
train It is better to reserve train tickets 3-6 months in advance, as the railway station tickets office normally give preferential treatment to earlier order.
train No matter how early you make the reservation, in China, the railway station tickets office will issue tickets 5-10 days in advance, and the tickets must to be issued at the departure city. Thus, we do not have enough time to deliver the train tickets to places out of China, but we can deliver the tickets to your local hotel or you can go to our local office to fetch them.