There are many Horse Racing Festivals in Tibet, but the most magnificent Festival is in Nagqu, which is the most beautiful scenery on the northern Tibet grassland in summer. Start from Lhasa and drive 322 kilometers to Nagqu, which costs you about four hours. You should arrange three days to ensure the quality of your photography.
What to See in Nagchu Horse Racing Festival
Few days before the opening ceremony of Horsing Race Festival, traditionally dressed and decorated Tibetans living on this immense grassland gather at Naqu County to set up their tents around horse racing track, hundreds of tents stand and are packed there within a few days, as if a crowed temporary city suddenly appeared on grassland.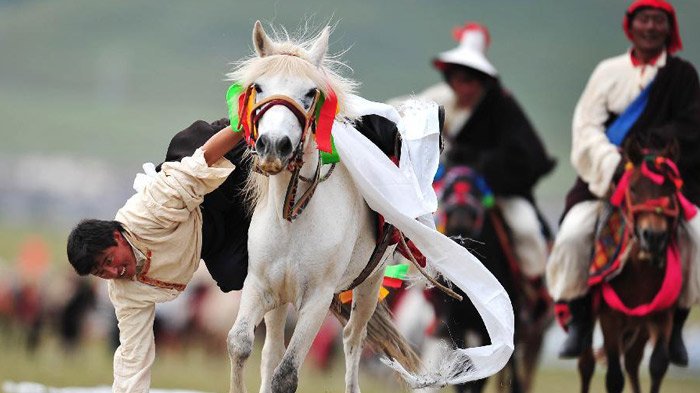 The brave Tibetans are picking up the hada scarf on the back of galloping horse.
Besides exhibition and trading of local stuff among Tibetan people, dancing and singing performance, Buddhist activities, different kinds of interesting races organized there during the festival in order such as yak race, tug-of-war, long jumping, stone raising, Tibetan opera performance, are all boiling this temporary city and making her energetic and attractive.
When to Go for Nagchu Horse Racing Festival
August is the best time for tourists to sightsee the vast and beautiful green grassland covered by flower. And it is held in every August with duration of 5 to 15 days.
Shooting Strategy for Nagchu Horse Racing Festival
Racetrack is the perfect place to shoot the horse racing, especially on the platform. It is advisable to use a telephoto lens like 70-200mm. You can find a dramatic angle on the both sides of platform. In fact, taking a snapshot of characteristic clothing in the crowd will be another way to show Tibetan culture.
Restaurant and Accommodation in Nagchu
You can have meals in a variety of snack stall keepers around racetrack. Of course, going back to the restaurants in the County is also very convenient.
During the Horse Racing Festival, there is almost no hotel available in Nagqu County and the price is very high. We strongly recommend that you should book a room in advance. Comparatively speaking, it would be a better way by camping near the racetrack or staying overnight at other local Tibetan's tent. Read more about Hotels in Nagchu
Note: The altitude of Nagqu is 4,507m. Many tourists, who have acclimatized themselves to the altitude of Lhasa, may fall victim to altitude sickness. Thus, it is extremely essential to get ready for this emergency situation.