Saga means "the fourth" and Dawa refers to "month" in Tibetan. This festival is celebrated for whole month and is one of the most significant festivals celebrated in Tibet. But the fifteenth day of the month is very special as Sakyamuni was born, attained Nirvana (enlightenment), stepped into Parinirvana (death). Tibetans believe that it would accumulate immense of merits during that particular day by giving generosity, stopping killing animals and eating meats, etc. Monks chanting in monasteries, cham dancing and other religious activities dominate the occasion. The festival is called "Qiong ren Jie" in Chinese which means poor people's day because Tibetan peoples' generosity to the poor people is well known.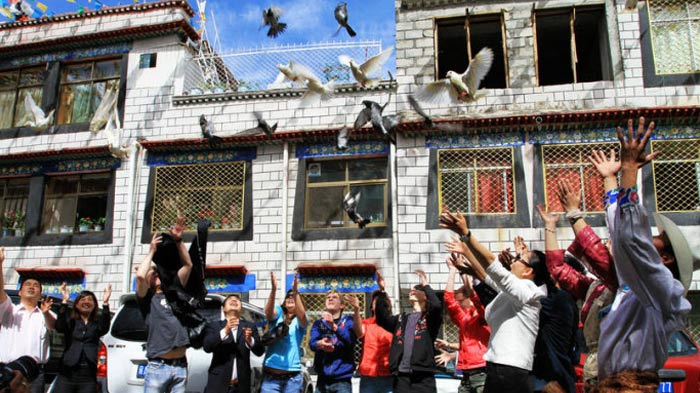 Our clients are seting doves free during Saga Dawa Festival in Lhasa.
What to See in Saga Dawa Festival
- Hundreds of Tibetan people circumambulating around the Barkhor, Tsekhor(Circuit around Potala) and Lingkhor.
- Liberation of fishes in Lhasa river(Kyichu) and other animals according to their budgets.
- Monks reciting prayer in Assembly hall in monasteries and serving butter tea during intermission.
- Hundreds of Tibetan people lined up in Drepung kitchen for making their donation for the monks during chanting prayers in assembly hall.
- Tibetan people will never eat meats during 15th day of the Saga Dawa and you can see every Tibetans eating vegetables in restaurant after finishing their circumambulation.
- Tibetan peoples busy with visiting various monasteries.
- Tibetan peoples' generosity to the poor people by giving them material help.
- After finished visiting monasteries, Tibetans will go for picnics in different picnic centres in Lhasa.
- Even in picnics, older Tibetans mumbling mantras by rosary in left hand and small prayer wheel in their right hand.
When to Go for Saga Dawa Festival in 2017 and 2018
Saga Dawa Festival is the most significant religious festival in Tibet. The Saga Dawa Festival is celebrated on April 15 in Tibetan calendar. The Saga Dawa Festival has taken place on Jun.9th, 2017 and will be celebrated on May. 29th, 2018 in solar calendar.
Where to Go for Saga Dawa Festival
If you take a Saga Dawa Festival tour in Lhasa, don't forget to be a part of the huge crowd that visits the Dzongyab Lukhang Park at the foot of Potala for a late afternoon picnic. In fact, this has become some sort of a yearly ritual for the people in Tibet. On this day each year, the people will dress in their splendid attire and sing and dance and have a picnic or gathering in Lingka.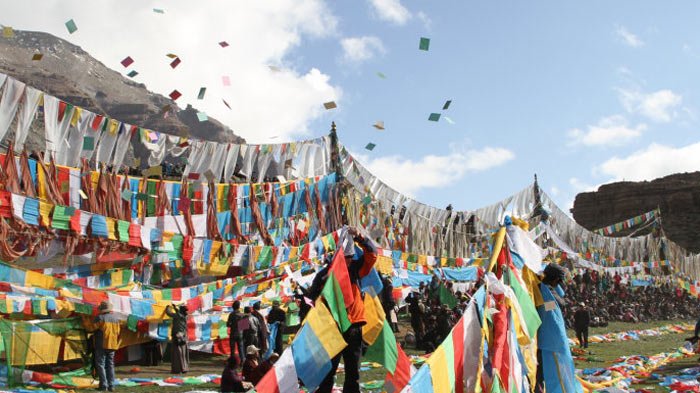 Pilgrims are worshipping at Mt. Kailash during Saga Dawa Festival.
Except in Lhasa, you can also experience the Saga Dawa Festival at Mt. Kailash, the holiest mountain in Tibet. Thousands of Tibetan Buddhists would go to worship the scared mountain during the Saga Dawa Festival.
Since the Saga Dawa festival falls on the holiest month of the Tibetan calendar, it is believed that good deeds and prayers are multiplied thousand fold during this event. Thus, this astounding festival is also known as the Festival for Releasing Living Things, and during this festival, Tibetan people do not eat meat and kill any living things in April on Tibetan calendar in order to concentrate their efforts on worshipping. If you are curious about this religious festival, it is time to contact us to make plan for Saga Dawa Festival Tour.