Gaden Ngachen Chenmo Festival, also known as Tsongkhapa Butter Lamp Festival, is celebrated to commemorate the parinirvana of Tsongkhapa, the founder of Gelug Sect of Tibetan Buddhism. Tsongkhapa Festival falls on the 25th day of the tenth month in Tibetan calendar. On that day, Tibetan monks would light up numerous butter lamps on the altars in and out of temples, and it's common to see lamps illuminating day and night at Tibetan homes.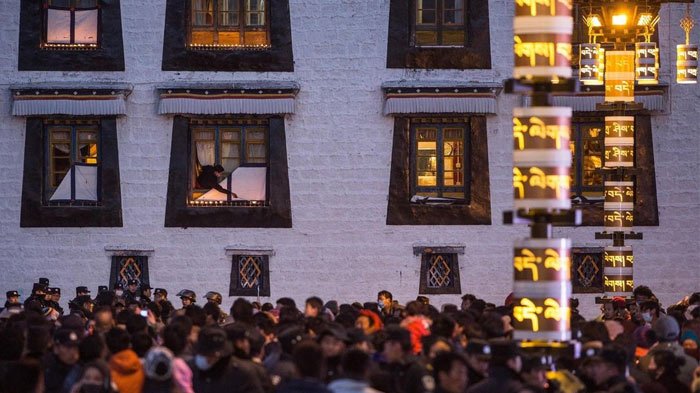 Butter lamps are lighted up at the windowsills.
Tsongkhapa was born in a Buddhist family in Huangzhong County, Qinghai Province. At the age of 16, he went to Tibet and learned from the elites of Tibetan Buddhism. Under the tutelage of Sakya, Kagyu Sect and other monks, Tsongkhapa devoted himself to the study and practice of Buddhism for many years. Finally he created Gelug Sect at the beginning of the 15th century and died at Ganden Monastery on Oct. 25th, 1419.
A few days before Ganden Ngachen Chenmo Festival, followers of Tibetan Buddhism have begun to make butter lamps and Lamas in Tibetan monasteries should make over 30 lamps. When the night falls, all the windowsills are decorated with blinking butter lamps. In Tibetan culture, the odd numbers are believed to have auspicious meanings, thus the number of lamps must be singular.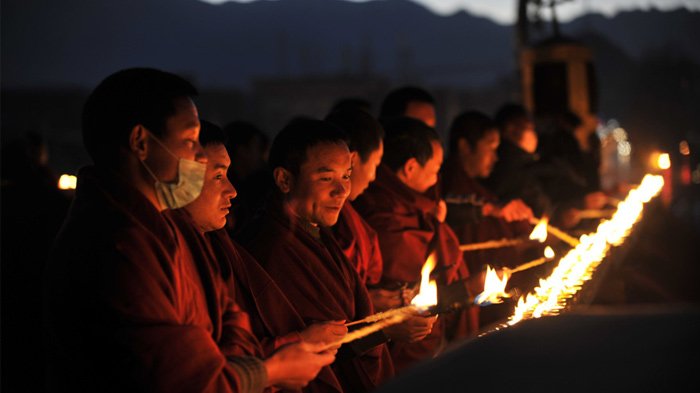 Tibetan monks are lighting butter lamps on the roof of Jokhang Temple.
At eight o'clock, Tibetan Lamas, pilgrims, folks and tourists crowd in front of Jokhang Temple. Accompanied by the sound of Suona, butter lamps are lighted up everywhere, like both roadsides, pagodas, roofs, windowsills, sutra halls, shrines, altars, etc. That's to say, where there is space, there is a butter lamp. And a bowl of holy water will be put inside the temple. Lighting and its reflection make the pagodas, temples and house brilliantly illuminated throughout the night. Especially, the twinkling butter lamps on the roof of Jokhang Monastery are something you shouldn't miss. Seeing from a long distance, it seems that stars have fallen down to the floor and the whole Barkhor street is ablaze with lights.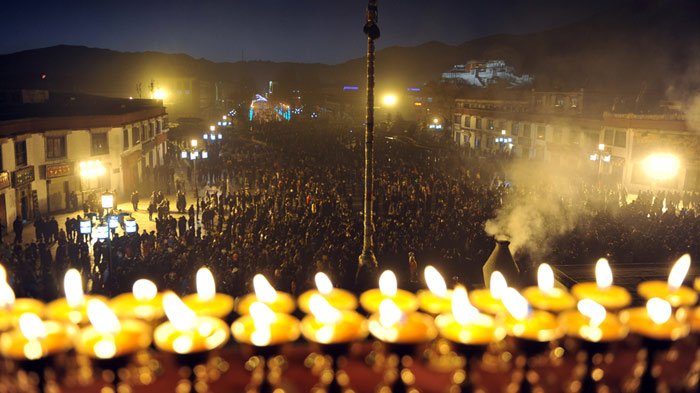 When the night comes, Barkhor street is packed with people and butter lamps.
At the same time, sincere pilgrims spin prayer wheels and chant the six syllable Mantra together, namely, Om Mani Padme Hum to mourn Tsongkhapa. You'll be amazed by the spectacular scenes and find out how solemn Gaden Ngachen Chenmo Festival it is! As the crowds move forward, they'll burn piles of cypress branches at furnace in front of Jokhang temple. Cloudy smog rising, all the people, men and women, young and old are praying to the sky and shouting out "La-Soro" (God wins!). Tsongkhapa Festival reaches its climax.
You can also enjoy various kinds of Tibetan foods and drinks on this day. Here we need to mention Tsampa porridge, a special food for Gaden Ngachen Chenmo Festival, which is made of barley flour, tea and a small amount of salt. There is an interesting story about Tsampa porridge. It's said that a little Lama once chanted sutra with a senior Lama at temple roof on Tsongkhapa Day. After a long time, he became so hungry and couldn't help thinking of delicious food. Then he read the scripture into "butter lamp lighting on the top, Tsampa porridge boiling in the pot".
Nowadays, Gaden Ngachen Chenmo Festival has become a religious festival to memorialize Tsongkhapa, which is followed by Tibetan New Year, the most important festival on Tibetan calendar. It's worthwhile tailoring your time with traditional festivals to experience a different Tibet.