Tibetan Cuisine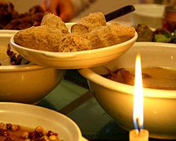 Traditional Tibetan food consist mainly barley, meat and dairy products. Vegetables are scarce in the high altitude. Here are some main Traditional Tibetan food and drinks:
Tibetan Food:
1. Tsampa: Tsampa consumed daily is the staple food of Tibetan people, which is roasted barley flour mixed with Tibetan yak-butter tea. Tibetans eat Tsampa every day and bring it as snack foods while traveling. 2. Yak Butter: Yak Butter, refined from the milk of yaks, is the daily food of Tibetans. It has very high value of nutrition. 3. Beef and Mutton: Tibetans like to eat beef and mutton because meat can provide enough energy to withstand coldness in the high elevation areas. Usually Tibetans boil beef and mutton with salt, ginger and spices. They take the meat in hands and cut them with their knives. 4. Yoghurt and Milk Sediment: The popular milk products are yoghourt and milk sediment. Yoghourt is a kind of food full of nourishing components and easier to digest. It is an important daily dairy for Tibetan people. Milk sediment is usually used to make Tibet buns. 5. Tibetan Sausages: Tibetans like varied sausages made of yak meat, yak blood and flour. 6. Momo: Tibetan "Ravioli or dumpling", is the most famous and popular Tibetan food. The half-moon-shaped Momo, filled with meat, vegetables and ginger, can be either steamed or fried. 7. Thenthuk (Tibetan Noodle Soup): A typical Tibetan noodle soup can keep the nomads withstand the coldness during winter time. It can be made either with vegetables or meat.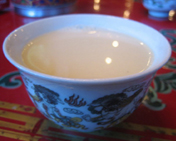 Tibetan Drinks:
1. Salted Yak Butter Tea: It is an indispensable Tsampa pal, which is made of boiled tea poured into a long cylindrical churn along with salt and yak butter. Vigorous churning makes the ingredients well blended and ready to serve. 2. Sweet Milk Tea: Besides Salted Yak Butter Tea, Sweet Milk Tea is another popular alternative. Hot boiling black tea filter is decanted into a churn and mixed with fresh milk and sugar. Many teashops in Tibet serve the sweet milk tea. 3. Tibetan Barley Wine: Known as Chang, Tibetan Barley Wine is brewed from fermented barley grown on the highland. The wine is mild, slightly sweet and sour and contains little alcohol. It is a very popular alcoholic drink in Tibet. Nowadays, in many Tibetan cities, Tibetan food is supplemented by Chinese food, mostly Sichuan food. Vegetables and fish become available in market. However, Tibetan people seldom eat fish due to their religion and custom. Restaurants can serve Tibetan, Chinese and even western food, and the restaurants grow rapidly in the streets to accommodate tourists. In Lhasa Hotel (formerly Holiday Inn), the restaurant can provide Chinese, Indian, Nepalese and western food. Kailash, Tashi, Snow Lands, Dunya (former Crazy Yak), and Makye Ame are popular among Travelers in Lhasa. The choice for vegetables will be limited due to the short agricultural season.