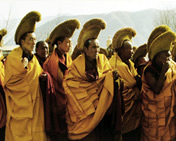 Tibet Buddhism, also called Lamaism, formed in the 10th Century. However, Buddhism was introduced into Tibet in the 7th Century AD (the Reign of Tubo King Songtsen Gampo) and gradually infiltrated Tibet's history, politics, economics, culture, exchanges, habits and customs. It has become the most extensively worshipped religion of Tibetans. But before Buddhism was introduced into Tibet, Tibetans only followed the primitive Bo Religion (also known as Bon or Black Religion).
Tibet Buddhism, based on Madhyamika and Yogacara, belongs to the Mahayana School. It also utilizes the symbolic ritual practices of Tantric Buddhism (Vajrayana) and incorporates features of the indigenous Tibetan Bon Religion in competition with it. Tibetan Buddhism has many sects and subsets and the following four are the most influential ones: 1. Nyingma-Red Sect; 2. Kagyu-White Sect; 3. Sakya-Colorful Sect; 4. Gelug-Yellow Sect.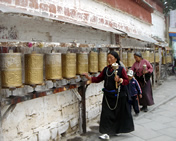 Panchen and Dalai Lamas
Dalai and Panchen are two Living Buddha Systems of the Gelug-Yellow Sect. Tibetan Buddhism Circle believes that the former is the incarnation of Chenrezi (Buddhism Guanyin), and the latter of Amitayus (Buddha of Infinite Light).
In Tibet, most monasteries as well as ordinary Tibetan families enshrine and worship the statues or portraits of Dalai and Panchen. Tibetans say that Dalai and Panchen are just like the sun and the moon in the sky. Being given the latest color photos of Dalai and Panchen by tourists, the faithful believers will receive in both hands, hold above their heads and reward with particular enthusiasm.